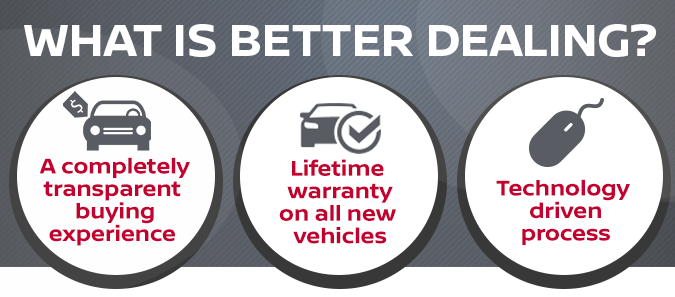 Better Dealing means that we are very forthcoming and transparent with our customers. We want you to feel at home when you come to visit us with a no-pressure experience. We don't add hidden addendums and mystery costs to our pricing. We also offer an Imagine Bar as another form of transparency - freedom to shop our inventory and shop the market. Our proprietary technology helps streamline the process to get you on the road faster. 
With the purchase of any new Nissan you'll receive these exclusive benefits at no additional cost - but only when you buy from our Nissan of Cleveland dealership!

Looking to trade in your vehicle? Our active trade appraisal process ensures that you're involved the entire time and well-educated on your vehicle's value. Our certified appraiser will escort you to our heated and cooled appraisal bay where they will walk with you around your vehicle and discuss every detail. Our hi-tech tablet software will get you in and out fast in just 30 minutes with a written offer that's good for 3 days or 150 miles - whichever comes first. 
We'll even buy your car from you whether you decide to buy from us or not in a no pressure atmosphere! 

Nissan of Cleveland includes a Lifetime Warranty as an added perk with the purchase of a new Nissan vehicle. We invite you to check out our lifetime warranty so you can see the Sonic difference!


As a part of the Sonic automotive group, we have access to over 8,000 pre-owned vehicles online. We carry all makes and all models to help find your perfect car.

Our proprietary technology helps streamline the process to get you on the road faster.

We are the dealership you can trust. You don't need to be a great negotiator to get fair and competitive pricing - just shop at Nissan of Cleveland!


At Nissan of Cleveland, you have options. Just speak with our car loan & lease experts to find out more. If you have had any credit bumps along the way, or are rebuilding credit, we can help!

We offer Nissan's One to One Rewards Program - the program that rewards you with every visit! Get discounts and special offers from more than 300 online retailers.

Eligible participants can drive away in a brand-new Nissan for a hassle-free, pre-negotiated price. Employees of our valued business partners are eligible to receive the benefits of this program. Check our list of partnering companies to see if you're eligible for benefits.


Complimentary Carwash
Keep your car looking as fresh as the day you bought it with complimentary carwashes, included in every service.

Free Shuttle Service
Grab a shuttle to your home or office while your car is being serviced. Or, get a ride to the Cleveland Airport and leave your car with us while you travel!

Free Wi-Fi
Available throughout the dealership.

Comfortable & Clean Waiting Area
Relax in the comfort of our waiting area while your car is being serviced.


You can schedule a test drive easily and quickly by completing our contact form online, then drive over to Nissan of Cleveland to get behind the wheel today!